The collaboration was officially announced the March 6th 2020 at the Palais Brongniart by Olivier Ginon, Chairman of GL events group, Claude Atcher, CEO, Rugby World Cup France 2023, and Bernard Laporte, President of the French Rugby Federation.
Committed with passion and responsibility to the world of sport and events for several decades, the GL events group is the first Official Sponsor of Rugby World Cup France 2023.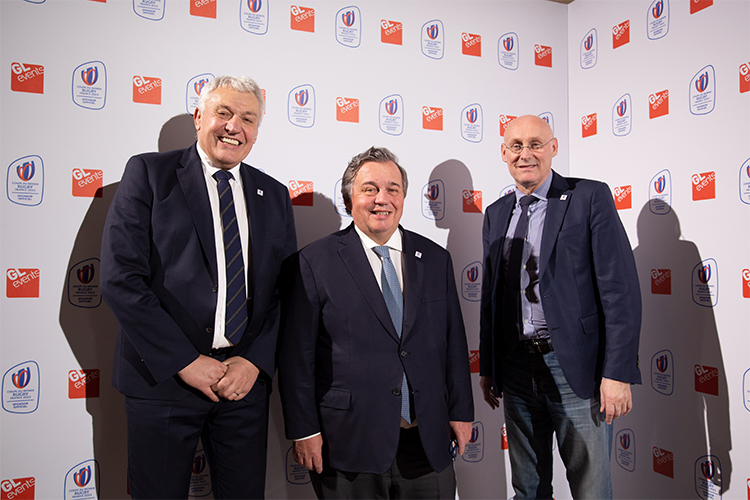 © MAŸLIS DEVAUX - DE GAUCHE À DROITE : CLAUDE ATCHER - OLIVIER GINON -BERNARD LAPORTE
Rugby World Cup 2023 is on track to be a spectacular and exceptional event, putting community, society and sustainability first through a dedicated social legacy programme that will unite France through rugby.
As a global leader in the world of events and committed to a responsible approach to the implementation of all its activities, the GL events group will contribute to the success of one of the world¡¯s biggest and bestloved major events and shares the societal ambition to ¡®break new frontiers¡¯ with Rugby World Cup France 2023.
The 10th edition of the Rugby World Cup, will kick off on 8 September 2023, but for GL events, it starts today. The group as a whole is associated with this event: its nationwide coverage in France, its 65 locations around the world, its thousands of employees, its 40 years of expertise in event design and production. Founded in 1978 in Lyon, one of the 10 host cities of the competition, the GL events group will put all its know-how and expertise to work for the success of Rugby World Cup France 2023.
ORGANISE ¡°THE MOST BEAUTIFUL RENDEZ-VOUS¡± IN 2023
By becoming an Official Sponsor of Rugby World Cup, the GL events group will benefit from international exposure and a dedicated marketing and activation programme. The GL events group brand will be present in the nine stadiums of the competition during the 48 matches of the tournament.
The France 2023 Organising Committee and the GL events group share a common ambition: to organise «the most beautiful rendez-vous» at Rugby World Cup France 2023 for all its stakeholders (players, fans, communities and the commercial and media family).